corporate gifting
Supercharge relationships with impactful gifts.
Celebrate your team and clients with gifts that champion small businesses.
Get in Touch
Corporate Holiday Catalogue Download

♥︎ by 30,000+ Customers
" The quarterly winners have been emailing us all day to let us know that they've received the boxes and to tell us how much they love them! "
Custom and branded gifts
Effortlessly Impactful
Welcome new hires, engage employees, onboard clients or simply show gratitude with pre-curated or fully custom branded gifts.

We bundle unique finds from small businesses into fun boxes that'll have your recipients wrapped in smiles.

Get CustOMIZED gIFTS
Holiday Collection 2023
'Tis the season to celebrate the people who matter most. Get a head start on team and client gifting for this holiday season.
"The Happy Box is now an annual tradition and our team really looks forward to the Winter Market Box."
The Curation Studio
Where we bring your vision to life. Whether you're looking for 5 or 5,000 corporate gifts, we align with your values, vision, and budget.
Your wishlist
Let's talk theme, budget, goals and crazy ideas!
Customized Curations
We'll present curations rich in quality and stories. From indigenous soap makers in Yukon to the immigrant chocolatier in Atlantic Canada, we bring you the best.

Branded Touch
Opt for a fully branded experience designed to match your style and theme.
Get Curating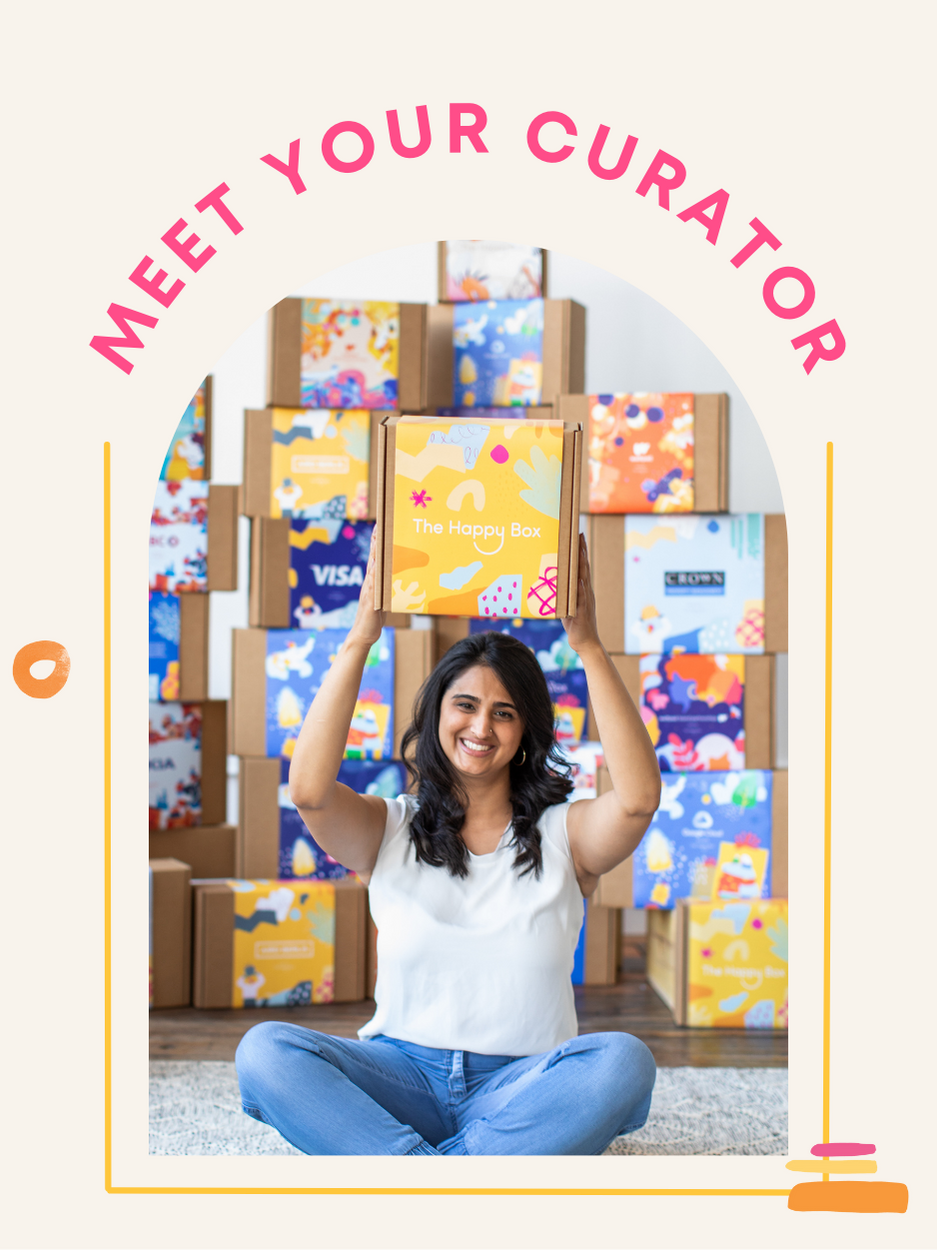 Note from Our Chief Curator
I've been obsessed with finding small-batch, one-of-a-kind items for as long as I can remember.

So, working exclusively with small businesses has been a given. However, each year, I keep a few additional values in mind when selecting products for the season.

This year, we'll be focusing on eco-friendly, BIPOC-owned, and women-owned products. A great gift tells a story; it carries a theme, is infused with heartfelt values, and leaves people with lasting emotions to discuss!

I'm thrilled to have the opportunity to work with you!
Schedule a call with me
The Happy Box Promise
Small Business Champions

We work exclusively with hundreds of small businesses, makers and artisans that makes your gift stand out.

Delivering Smiles

From curation to packaging, The Happy Box is designed to make you smile.

Unbeatable Customer Service

We skip the templates and cookie cutter responses; You're working with a human every step the way.